Luftlinie / Vogelvlucht Düsseldorf 2005
(text in english see below)
'Vogelvlucht' is ontstaan tijdens een verblijf als gastkunstenaar in Atelierhaus Höherweg in Düsseldorf. De plaatsen waar ik heb getekend en geschilderd zijn bepaald door een lijn die ik op de plattegrond van Düsseldorf heb getrokken van het atelierhuis naar de Schlossturm in het centrum.
De lijn doorsnijdt industriegebieden, woonwijken, parkeerplaatsen, bus- en tramhaltes, café's, warenhuizen, parken en tenslotte de historische Altstadt.
Overal waar de lijn op de kaart een straat of plein kruiste, heb ik naar de natuur geschilderd (gouache op papier) en getekend (potlood op papier).
De motieven zijn dus niet door mij gekozen, maar door de lijn gedicteerd. 'Pittoreske' motieven zijn vermeden.
De rij van gouaches en tekeningen geeft een karakteristiek beeld van Düsseldorf, een Duitse stad.
Alle schilderijen: gouache op papier 37 x 51 cm.

'Luftlinie / Vogelvlucht' ('As the crow flies') was created during a two months stay as guest artist in Atelierhaus Höherweg, Düsseldorf (Germany). Paintings and drawings were made after life along a straight line drawn on the map between the Studio at Höherweg and the Old Castle Tower in the centre of town.
This line goes through industrial areas, living quarters, parking lots, bus stops, street cafes, shopping malls, parcs and in the end through the historical old town of Düsseldorf.
Where ever the line crossed a street or square I made a painting after nature. The motives therefore are not chosen by me, but dictated by the line. Their picturesc quality was not a criterium.
The series of paintings and drawings gives a characteristic impression of the German city of Düsseldorf.
All paintings: tempera on paper 37 x 51 cm.
---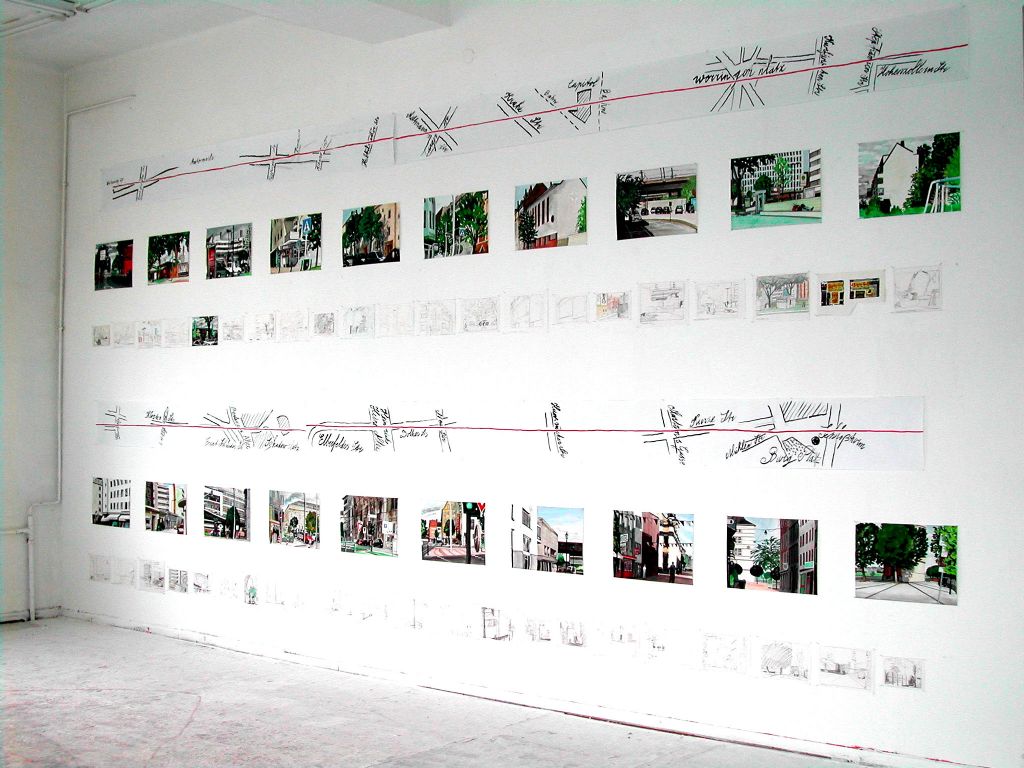 Luftlinie 21
Presentatie / Presentation
Vogelvlucht / Luftlinie / As the crow flies
Düsseldorf september 2005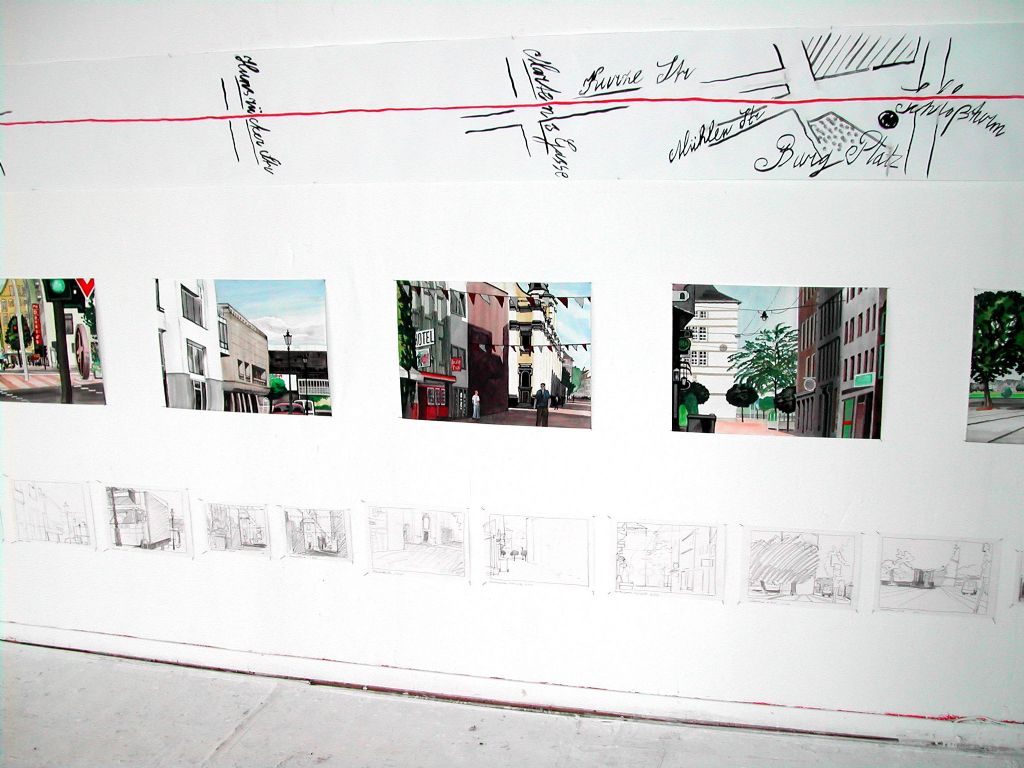 Luftlinie 23
Presentatie / Presentation
Vogelvlucht / Luftlinie / As the crow flies
Düsseldorf 2005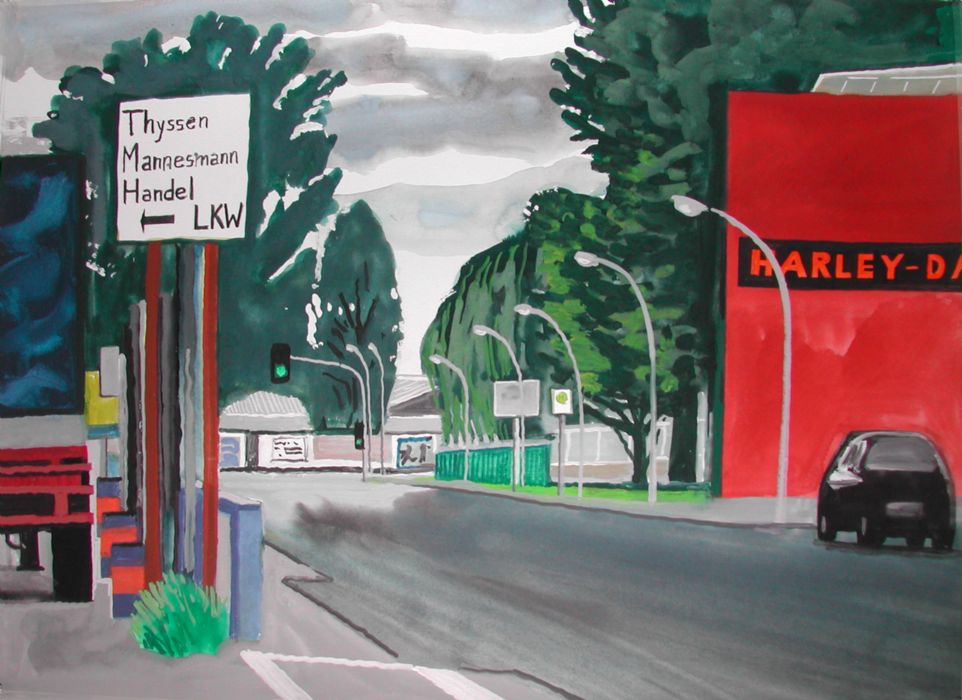 Luftlinie 01
1st intersection: Höherweg 271




Luftlinie 02
2nd intersection: Ronsdorfer Strasse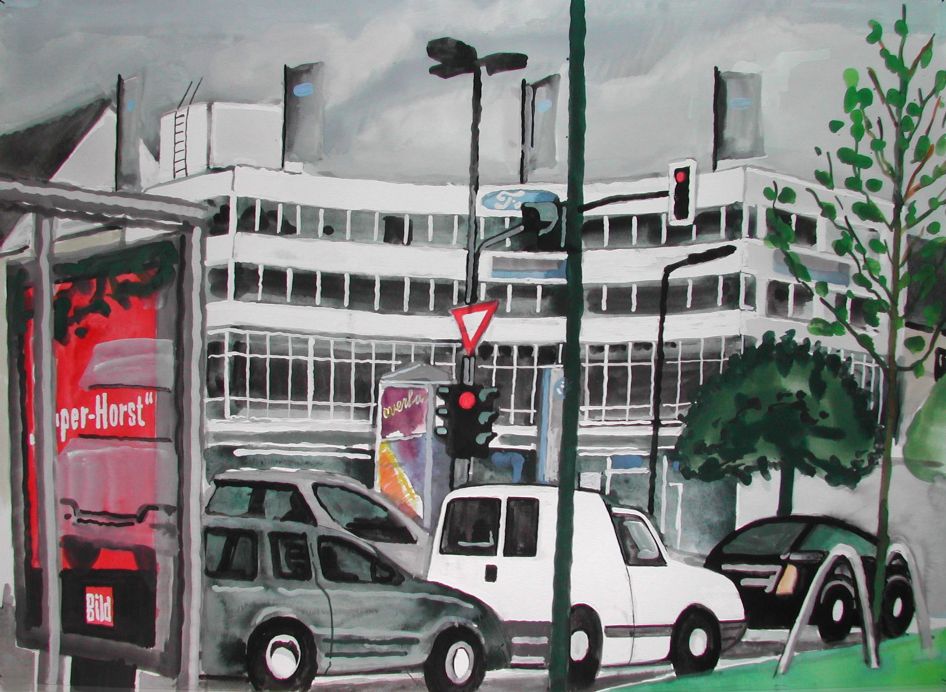 Luftlinie 03
3rd intersection: Kettwiger Strasse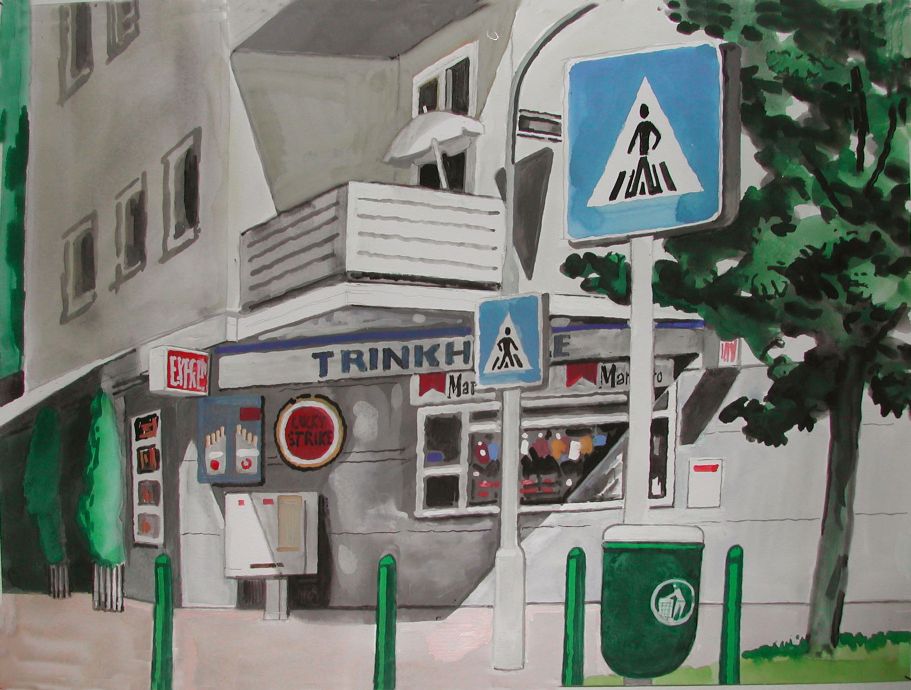 Luftlinie 04
4th intersection: Albert Strasse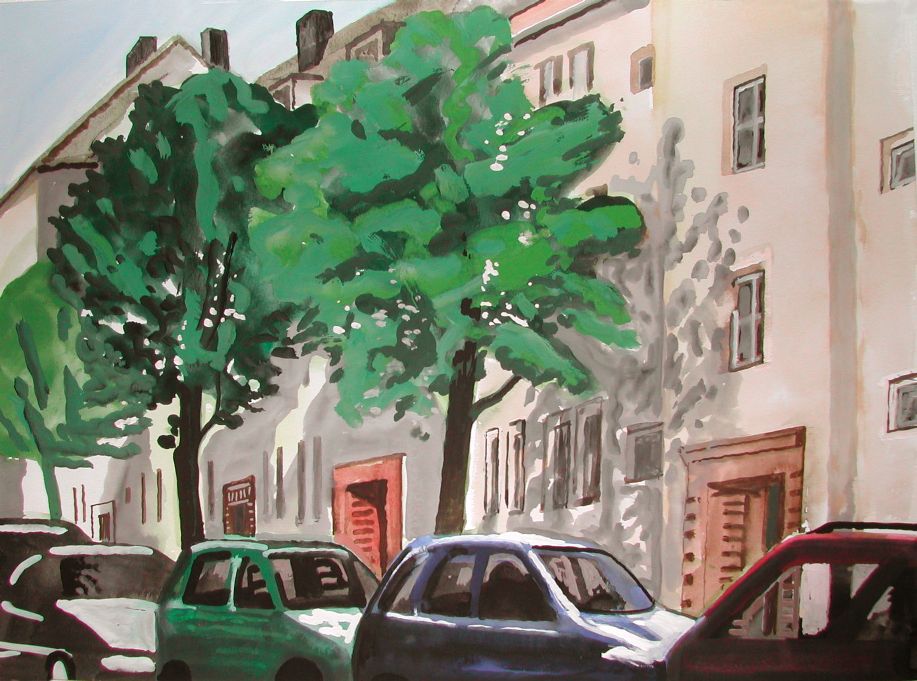 Luftlinie 05
5th intersection: Hubbelrather Strasse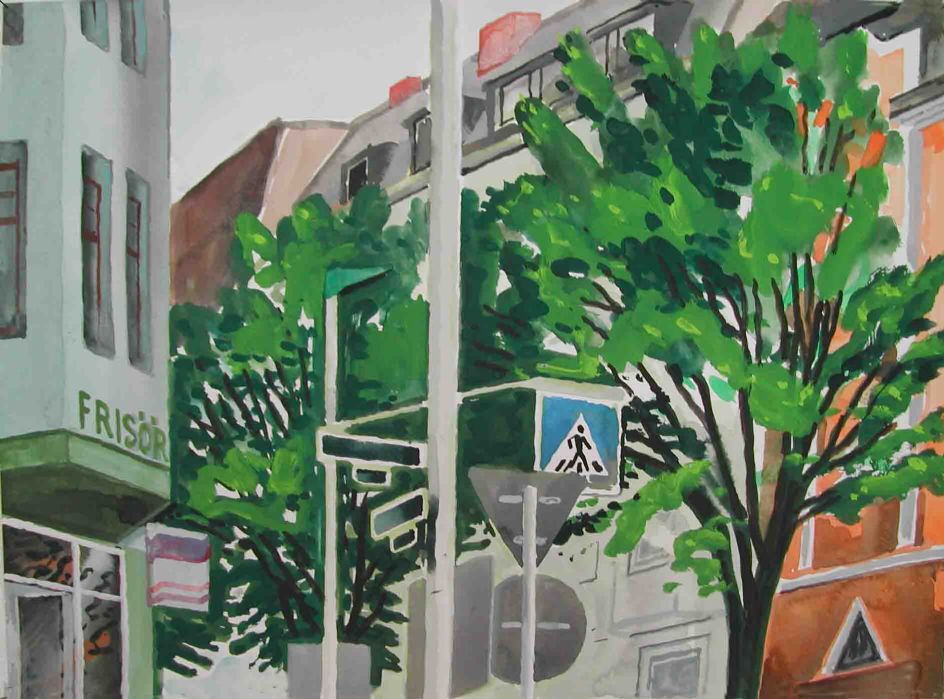 Luftlinie 06
6th intersection: Langer / Mettmanner Strasse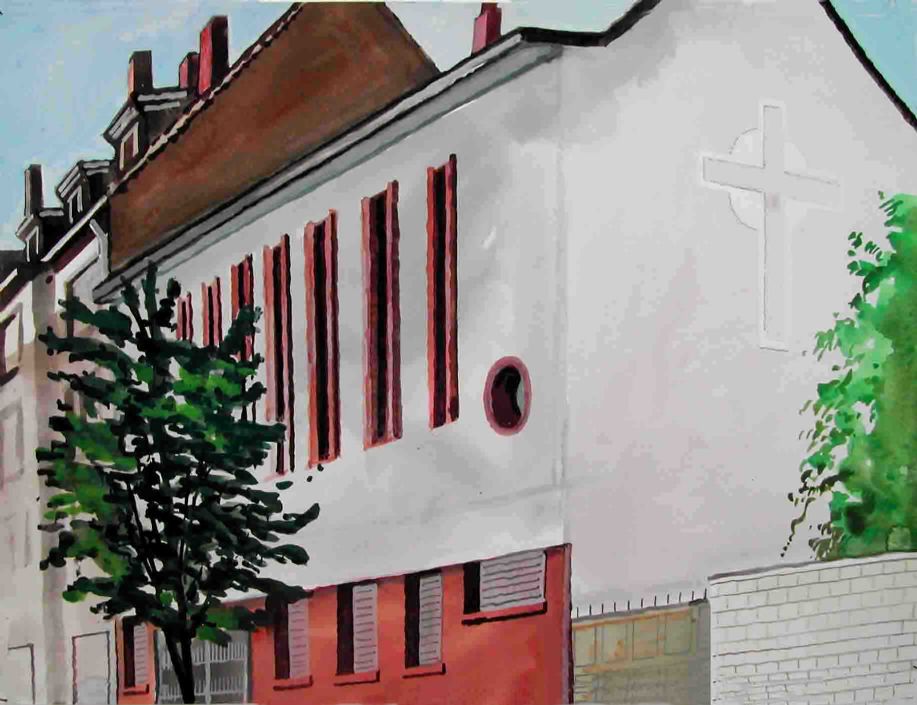 Luftlinie 07
7th intersection: Krahe Strasse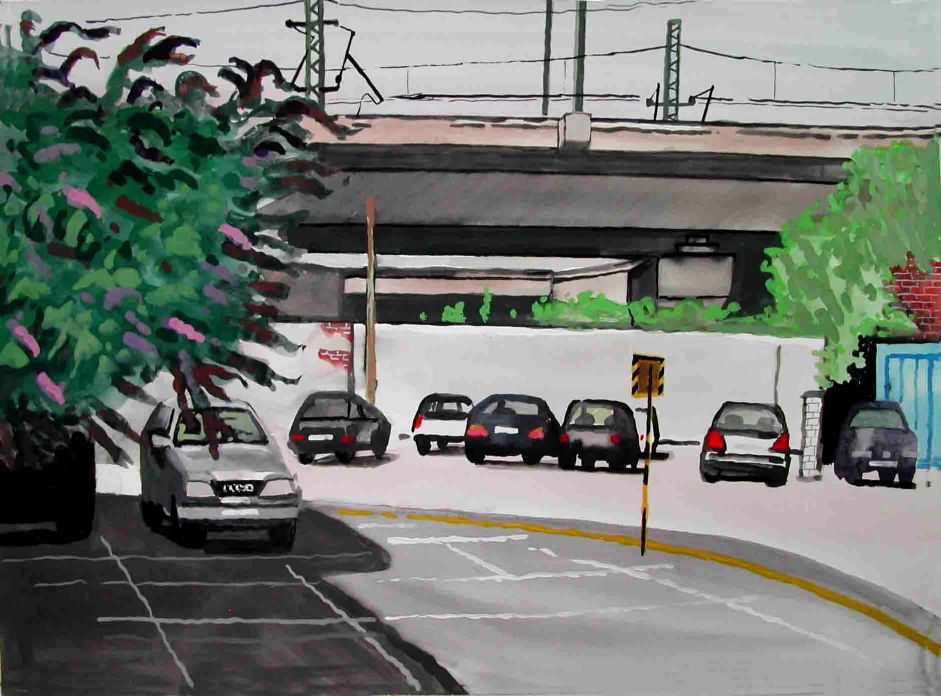 Luftlinie 08
8th intersection: Parkplatz Capitol Theater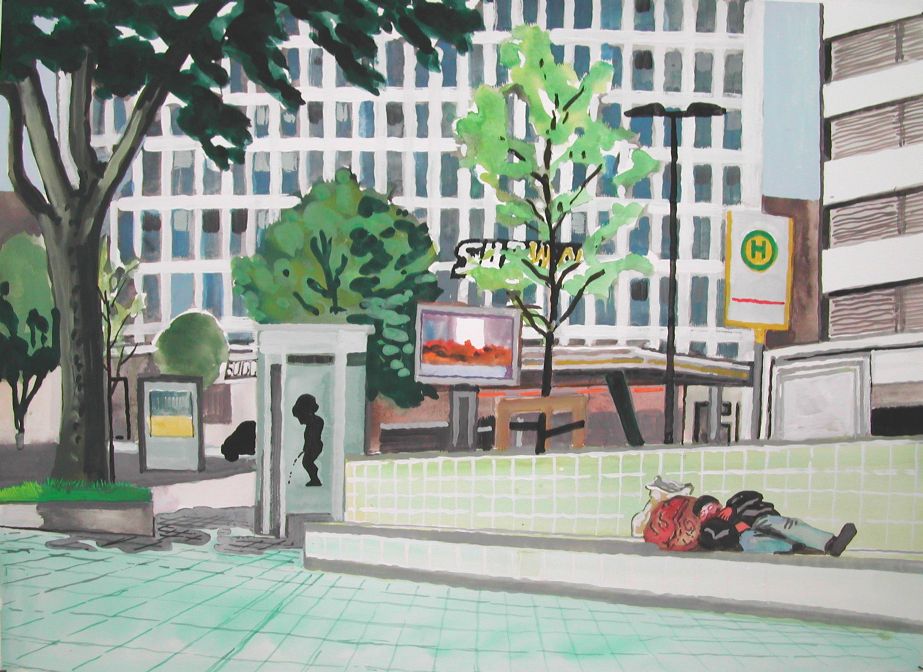 Luftlinie 09
9th intersection: Worringer Platz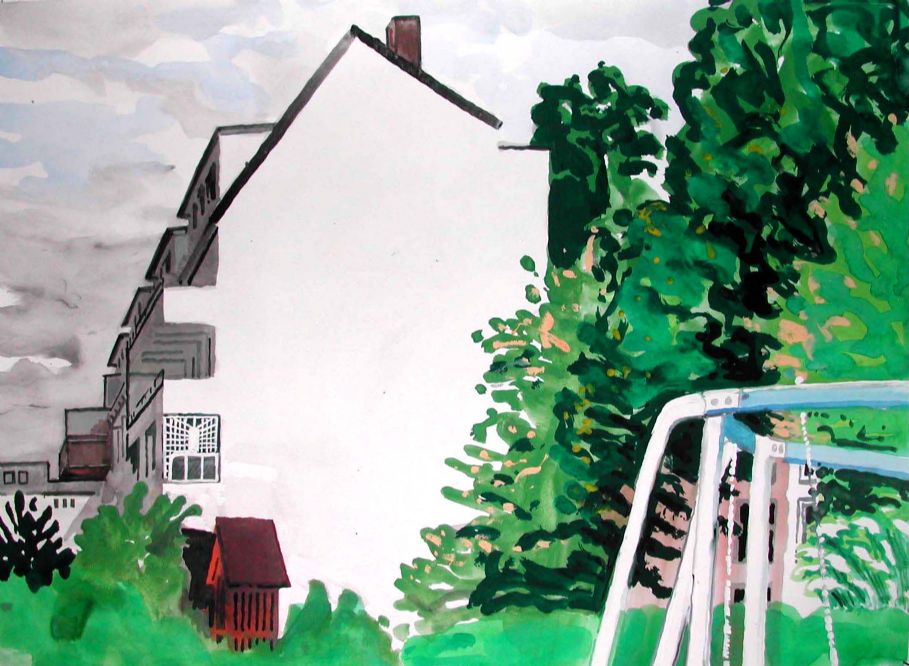 Luftlinie 10
10th intersection: Ecke Stephanien / Hohenzollern Strasse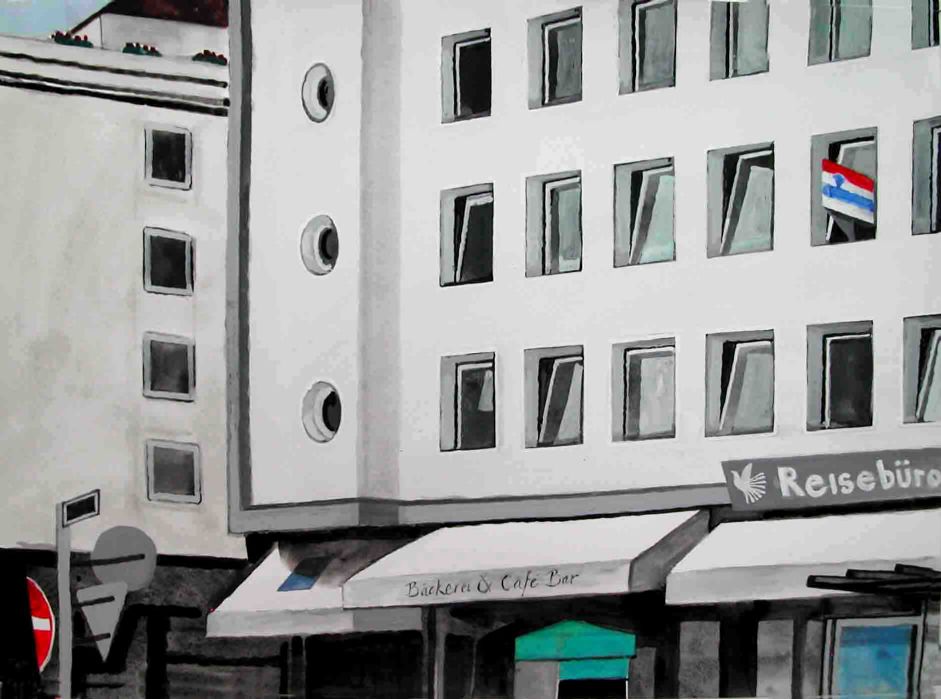 Luftlinie 11
11th intersection: Ost Strasse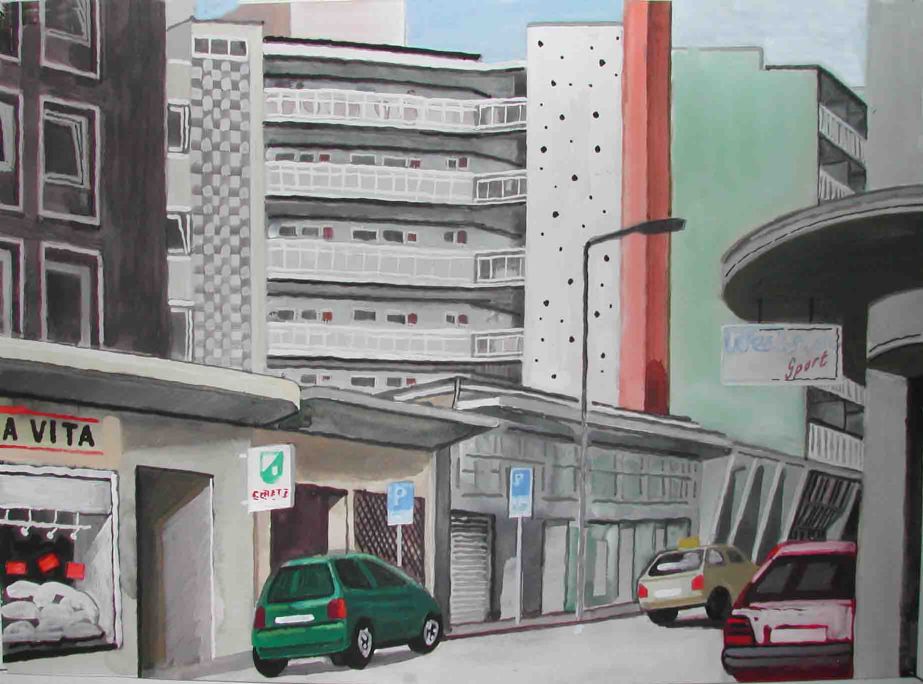 Luftlinie 12
12th intersection: Ecke Liesegang / Kloster Strasse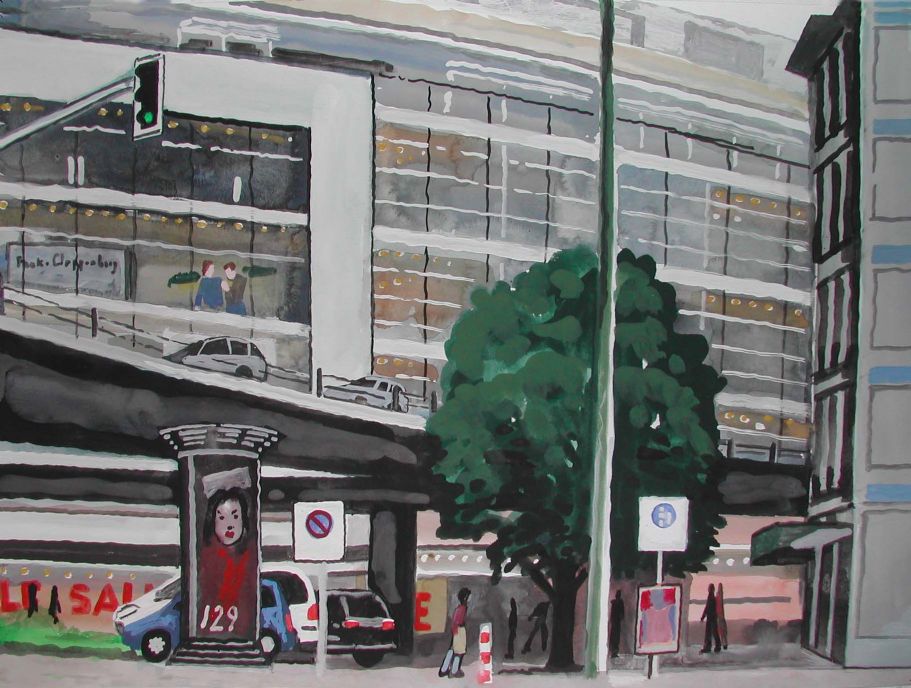 Luftlinie 13
13th intersection: Ernst Schneider Platz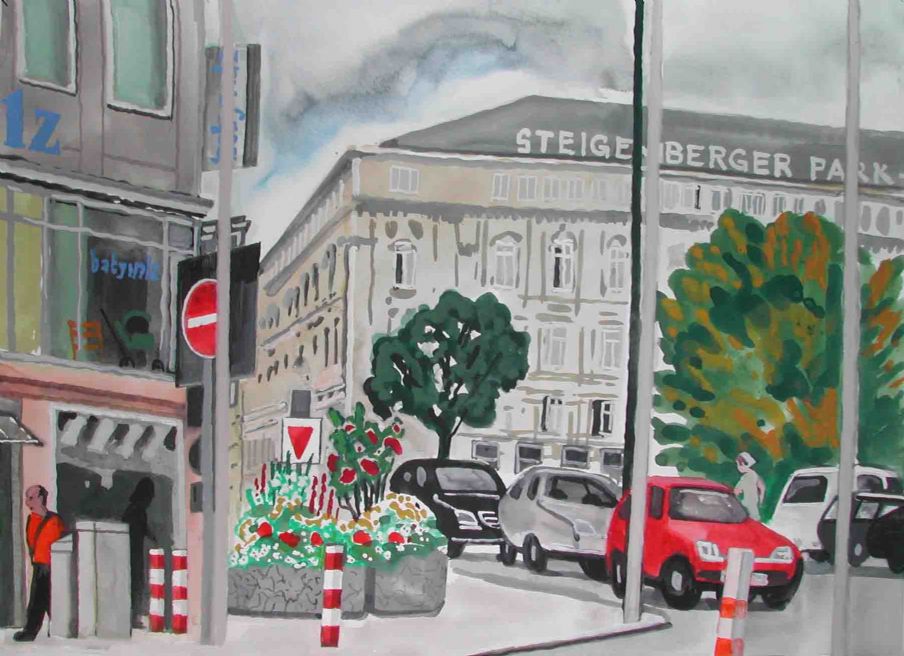 Luftlinie 14
14th intersection: Schadow Platz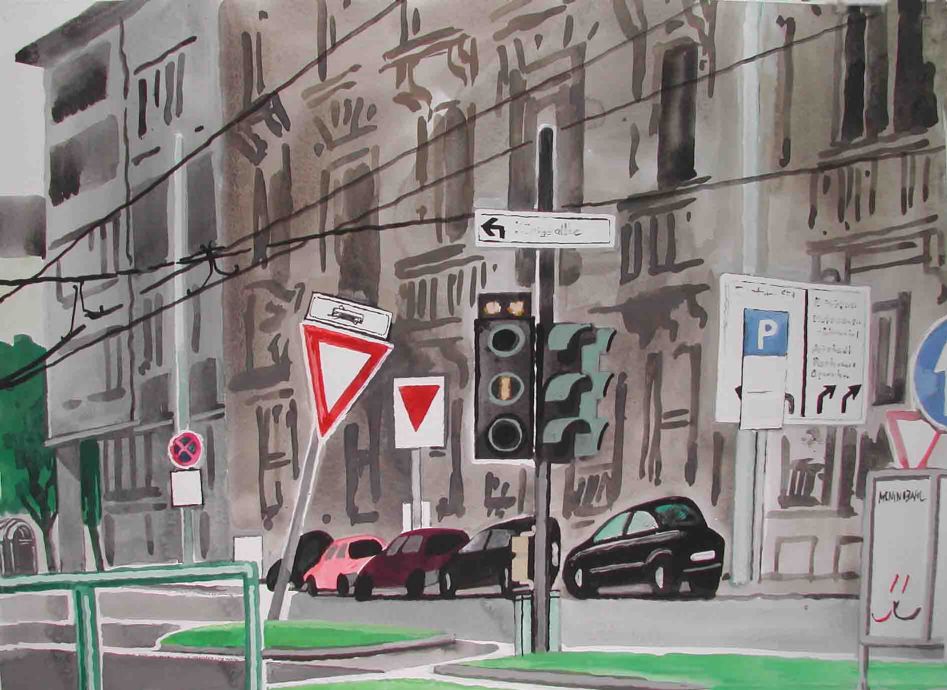 Luftlinie 15
15th intersection: Elberfelder Strasse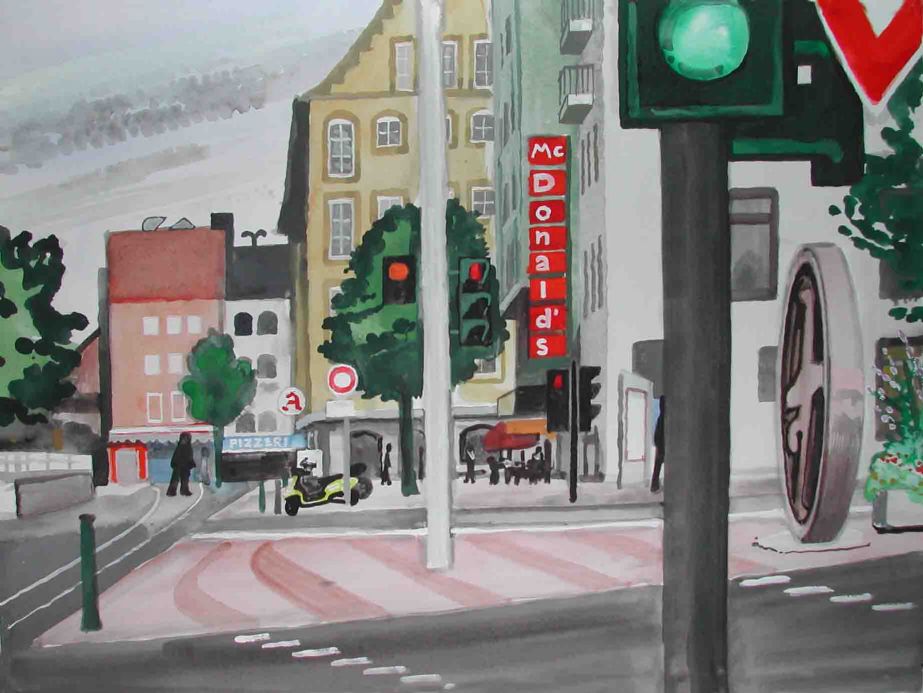 Luftlinie 16
16th intersection: Heinrich Heine Alle / Bolker Strasse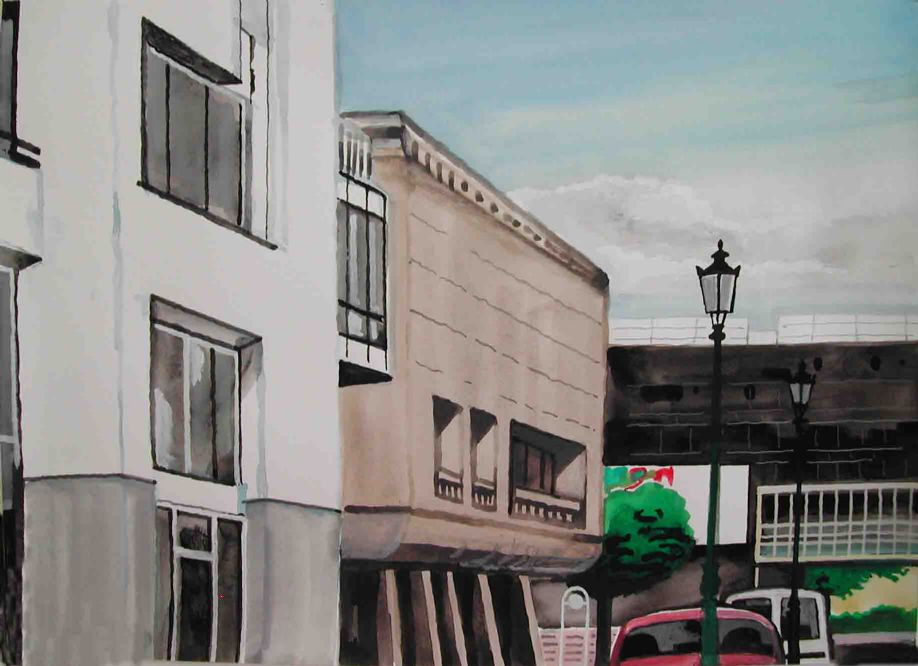 Luftlinie 17
17th intersection: Neu Strasse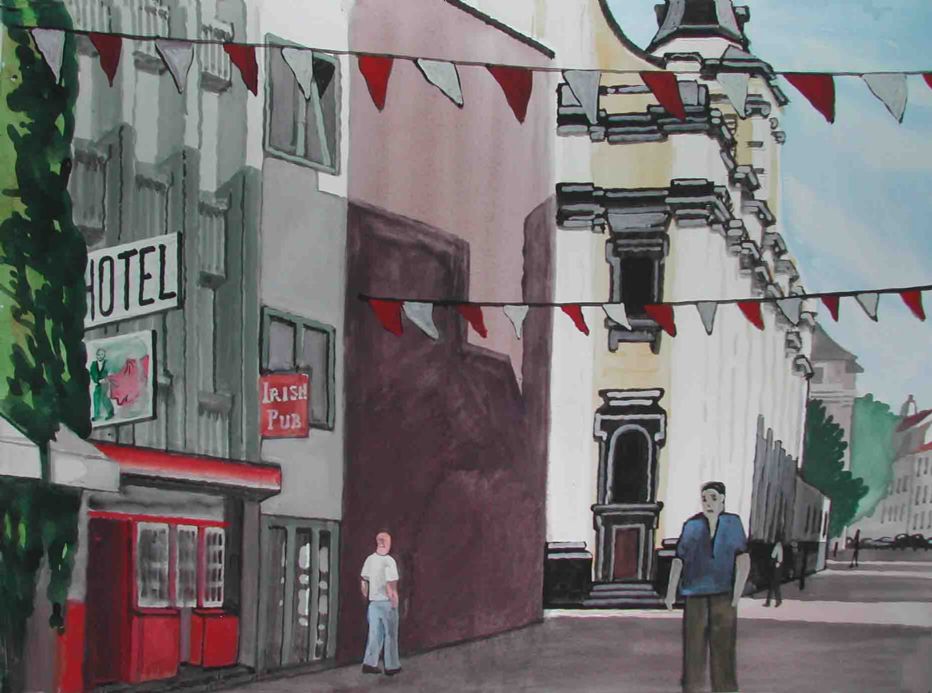 Luftlinie 18
18th intersection: Hunsrücken Strasse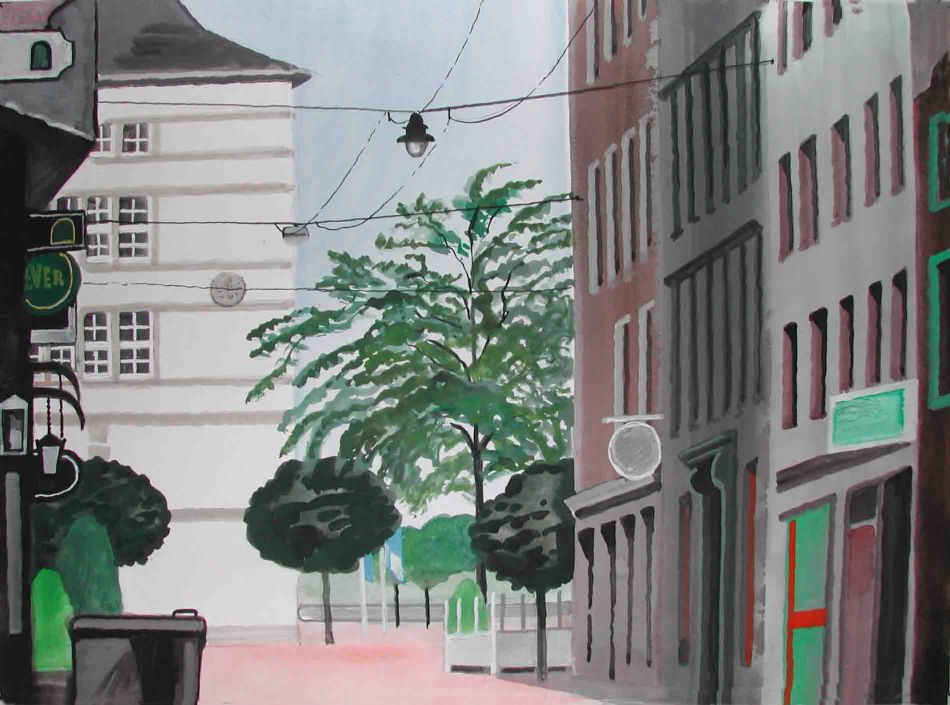 Luftlinie 19
19th intersection: Kurze Strasse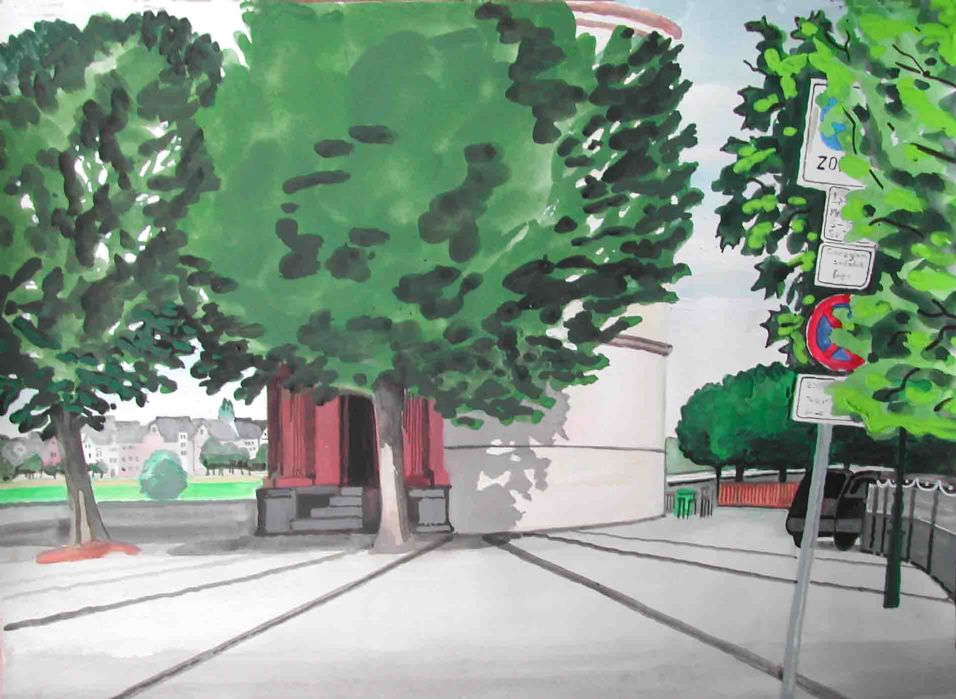 Luftlinie 20
20th intersection: Schlossturm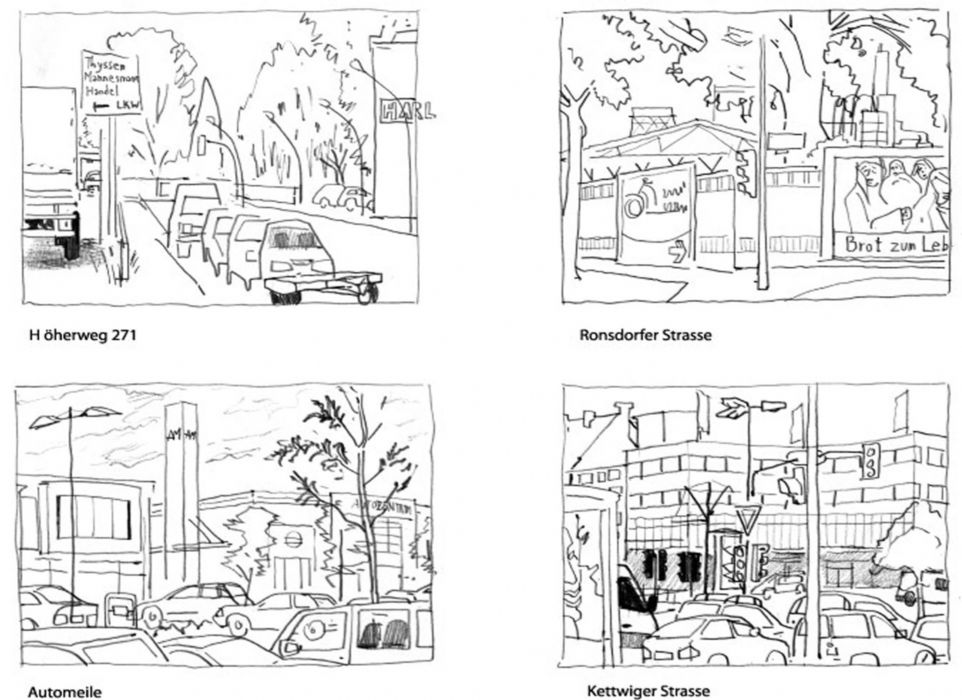 Luftlinie 22
Tekeningen / Drawings
section Höherweg - Kettwiger Strasse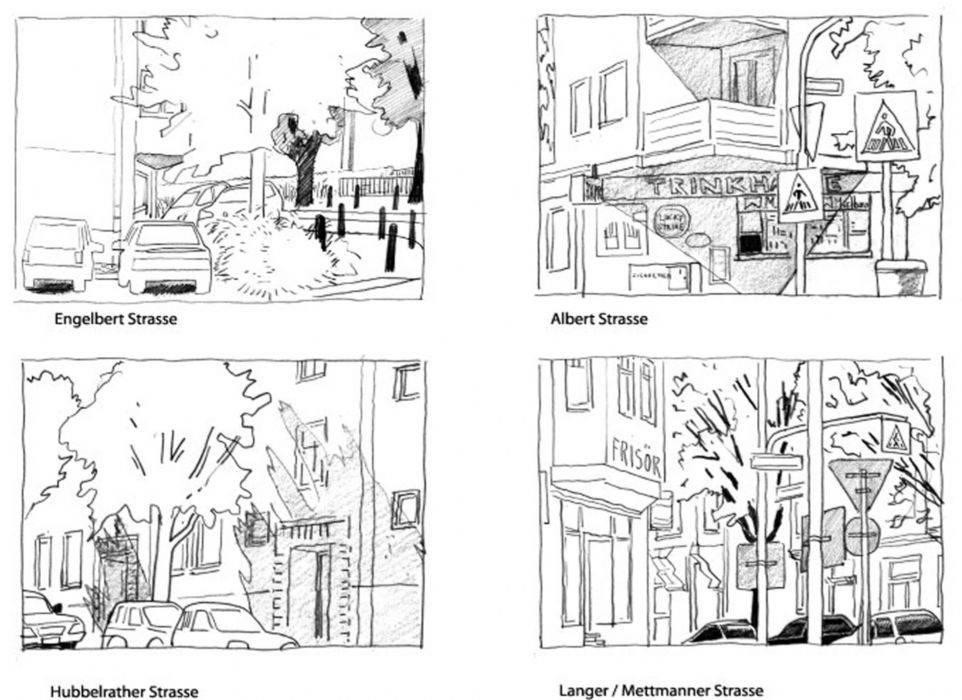 Luftlinie 24
Tekeningen / Drawings
section Engelbert Strasse - Langer / Mettmanner Strasse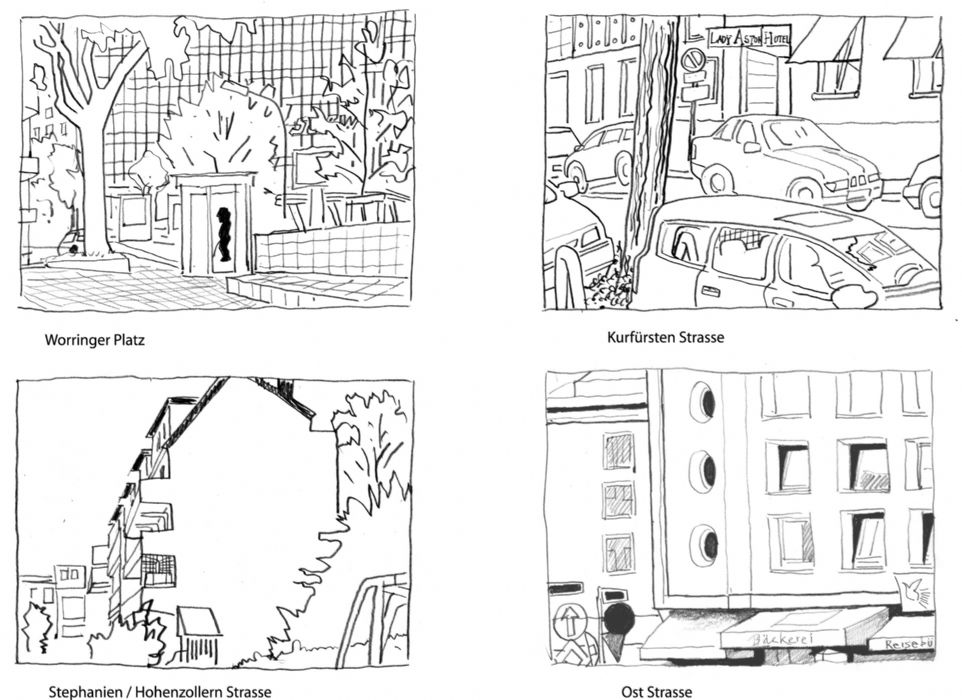 Luftlinie 25
Tekeningen / Drawings
section Krahe Strasse - Ost Strasse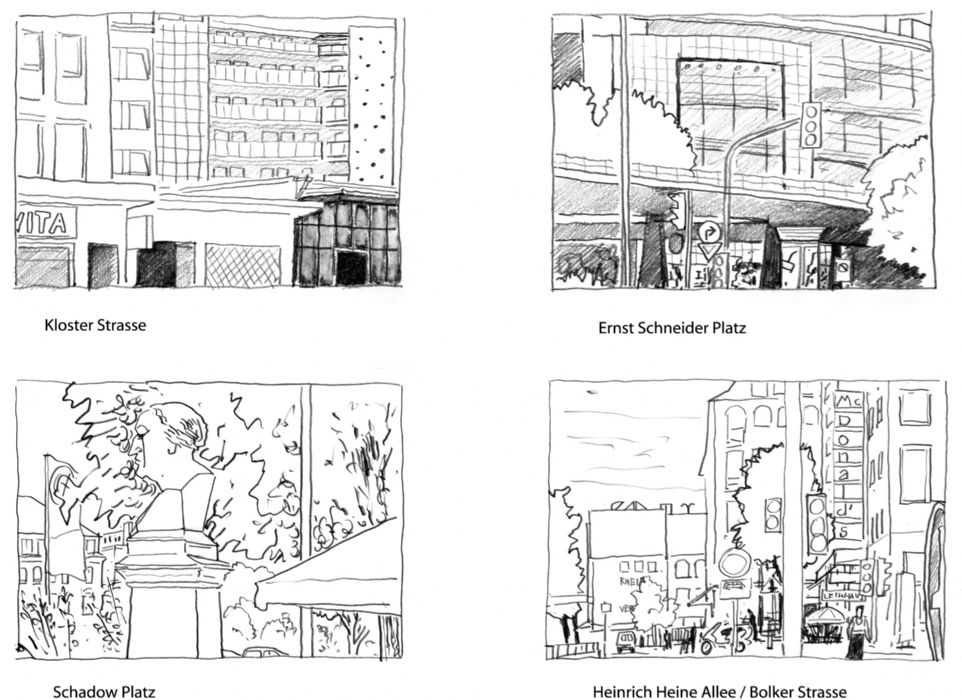 Luftlinie 26
Tekeningen / Drawings
section Ost Strasse - Heinrich Heine Allee / Bolker Strasse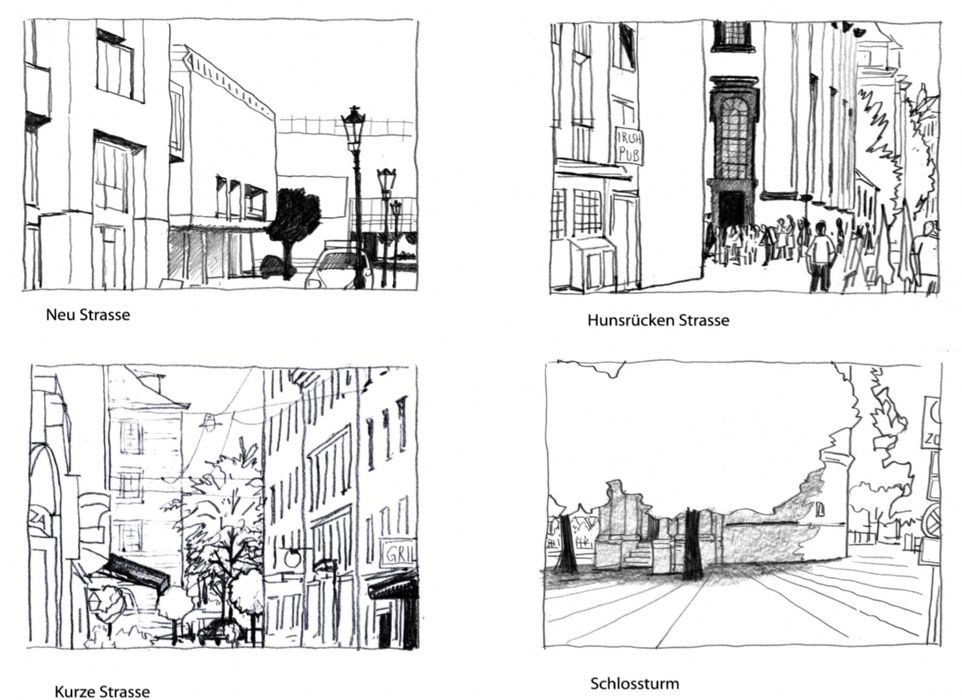 Luftlinie 27
Tekeningen / Drawings
section Heinrich Heine Allee - Schlossturm